Promotional Maglites might not be totally understood by the public. Here are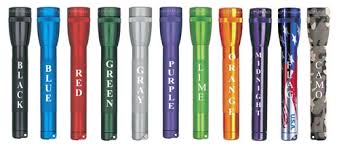 some possible misconceptions:
They are expensive.
They are imported.
They are made for policemen only.
They only come in black.
They don't come with batteries.
ANSWERS:
In comparison to imported flashlights of the same size, the Maglites are higher priced. But, you can expect to pay more for a higher quality product.
Maglites torches have always been designed and manufactured in the USA.
Originally, they were popular among policemen. Then the general public caught on to the supreme dependability of these quality-made flashlights.
Some models actually come in about 11 different colors.
All but the large ones come with alkaline batteries, and a solid plastic gift box.