What will the next surprise be in Promotional Maglites®?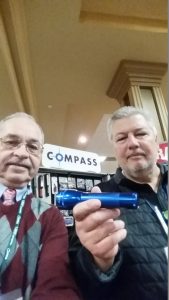 Here are some possibilities. (Simply our light-hearted uneducated guesses)
Made in the USA out of US and foreign parts (Other great manufacturers have gone this route. Could we see it with these famous flashlights?)
Made in Taiwan
Warranty reduced to 90 days. Optional extended warranty available for $29 per year.
Don't want to buy one? Rent one by the month.
Free batteries for 5 years.
Need one for just a day? Pick one up at a Torch Kiosk. Return it to any Torch Kiosk. Only $1 per hour. If you don't return it for a week, your credit card will be charged $200.
$15 discount when you trade in any other brand flashlight for a real Maglite®.
Do you need one delivered? Just call Yuber, and they will bring you one to purchase. $37 delivery and processing charge.
Let us know what your guess is, by adding a comment to this blog.