When you order pens with your logo, and intend to pass them out to employees, customers, and trade show visitors, here are some important tactics. You should use these ideas to better promote your company.
Give a quality pen, not a cheap pen. A pen that doesn't write, or breaks easily, will do you more harm than good.
Put your client's name on the pen. He will appreciate it 10 times more than a pen with just your logo.
Order pens that utilize your own corporate colors. This keeps your image consistent.
Actually distribute your pens. Your advertising investment does you no good sitting in your drawer. You'd be surprised to hear some business owners say that they protect their pen supply because it cost them money.
Use personalized pens  at trade shows to propagate your good will, company image, and corporate logo.
Use personalized pens when calling on prospects, to help make them become lifetime customers.
Give personalized pens to your employees to firm your relationship with them, and to strengthen your team.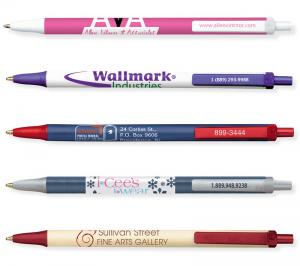 Colors and More Colors
Writing instruments now come in a wide variety of colors. Your imprint colors can match the trim on the pens if you want. Your phone number can also be imprinted by itself, on the clip of some BIC pens. You can use your creativity to design a retractable pen or stick pen to reflect the tone of your company. If you need some help, just ask your promotional products distributor for ideas. They have the experience to develop what you are after.
Tips For Promoting Your Business With Personalised Pens:
At your trade show table, don't just leave pens on your table and wait for prospects to pick one up, and expect the magic to start. Hold a few pens in your hand, and pass them out to people walking by. Now you are using the pen as an ice-breaker to start a conversation with a possible lifetime client.
Sales Calls: When you visit a prospect or client, always present them with a pen, or other promotional item. The average life of a business card is about 5 minutes. A good pen will last a lot longer, and promote good will, and is a useful instrument.
Employees: Don't forget your employees. They can benefit from a sincere gift, like a pen from their boss. This will promote good will, and can be used to introduce a new department, or process. You can add a message on the pen, after your logo. You don't need to wait till the yearly company picnic. A higher-priced gift pen can be personalized with the employee's name, and given as a safety or service award.
Do you have more ideas? Please leave a comment here! Thanks.

Ambassador Pen with Laser Engraving