Instead of promotional Maglights, the correct spelling is promotional Maglites.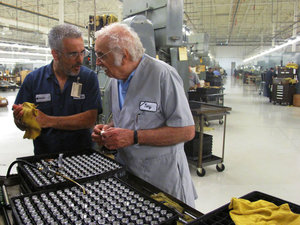 The term has nothing to do with magnetism or magnesium or manganese or magnificent. The term came from the founder, Anthony Maglica.
Mr. Maglica's life story is a perfect example of the American dream. He had a poor man's beginnings, and created an empire out of nothing. For a full history of this man's dream, refer to the Maglite history page. He was born in New York City during the depression, but was raised in his mother's homeland, Croatia. When he was about 20 years old, he returned to the USA to escape the political turmoil following Word War II.
Long story short, he learned English on his own, started Mag Instrument in 1974, and introduced the first Maglite in 1979. From then on, Mr. Maglica has made many improvements on that first torch. Some of the milestones are:
Making a hard plastic gift box, to increase the perceived value of the Maglite as a gift.
Changing from an incandescent bulb to an LED, then to a COB bulb.
Making various sizes and colors of flashlights.
Developing several rechargeable versions.
Making models that can be operated with one hand.
Colored bulbs
Making programmed models that have 3 or 4 modes of lighting, like high, medium, low, strobe, SOS.
Mr. Maglica is still committed to keeping the manufacturing in the United States.