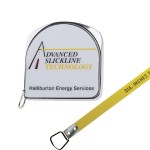 What is the outside diameter of this part of the gas pipeline?
How big of a heater hose do I need to replace this one?
What is the diameter of this heating duct?
What is the diameter of this pole?
What is the diameter of this tree at this height from the ground?
If you can put yourself into the position of asking one of those questions, then you would benefit from Diameter Tape Measures. They are easy to use. They really do the work FOR you. See this short video on how these amazing tapes find the diameter of a round object….without having to cut into it to actually measure the diameter yourself.

People who don't know they need a pipe diameter tape measure yet:
Boat repair professionals
Car repair people
Carpenters
I have given Lufkin diameter tapes to these 3 groups of people, and told them how to use it. It only take a minute to show them. They are in awe of the tape, and wonder why they never heard of them. My boat repair man broke his, and wanted to buy a replacement tape. That's how handy these pocket tapes are. They even can be personalized with your corporate logo in full color.