The first advice is: "Don't try this at home".
Laser engraving is an art and a science. It requires a special laser engraving machine. Not all laser machines can properly engrave on anodized aluminum. Even if you have the right machine, you need to: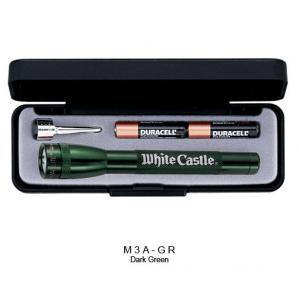 Try engraving some test pieces to find the right voltage
The right number of passes
The right position on the Maglite® barrel
The right size of imprint, so the logo doesn't get distorted at the top and bottom edges.
Make a jig, so you can engrave all the barrels at the same exact place.
The best way to get a Maglite engraved is to find a professional engraver, and one that engraves Maglites® all the time. Of course, the internet is the best place to find such a company.