Those in the oil well drilling business use tally books continually every day. They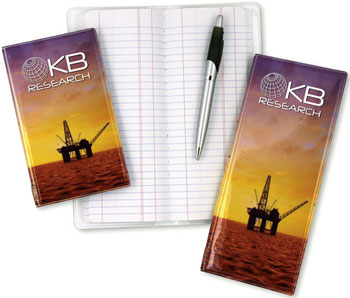 keep a close record of when they attach a new section of pipe, and how long it is, and what time it is. The books are just the right size to fit into a pocket, so the books are kept right where they are needed. So tally books are a necessity in the oil drilling business.
To protect the book from weather and abrasion, the cover is made of vinyl. That's where the irony hits. Vinyl is a man-made fabric made from OIL!
It was developed only in 1920 as an inexpensive durable fabric that is easy to make. It is made out of oil and salt, and its real name in poly vinyl chloride.
Here are the details for you scientists:
They break down petroleum using high pressure and temperature. This is called cracking. The results are ethylene, butadiene, propylene, and a few other things. They combine salt (a source of chlorine) with the ethylene using "electrolytic disassociation". They add a few other compounds and end up with poly vinyl chloride (vinyl).
As you know, vinyl is ubiquitous, and very inexpensive. However, it looks expensive, similar to leather.