Oilfield and gas field workers use Tally Books every hour of the day. They keep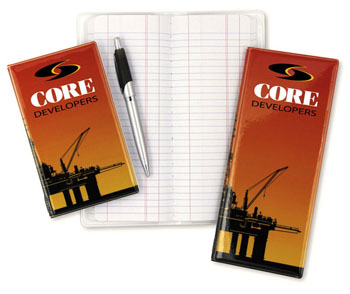 track of when tasks are done, the size and length of the pipes they install, and gauge readings. How can you make their pipe tally books more useful to them?
Add a vinyl pen loop, so the workers won't loose their pen or pencil.
Design the book with spiral binding instead of stitched binding, so the book will lay flat.
Make the color of the vinyl cover bright, so it can be found easily in a pile of other items.
Print valuable information on the back cover, or on the inside of the cover. This can be phone numbers, conversion tables, decimal equivalents, etc.
Order a 3 page clear vinyl insert, so you can store business cards, printed material, and other important info.
Order a water-resistant stone pad for more durability. These amazing pads look like paper pads, but you can't tear them, and they resist water damage.