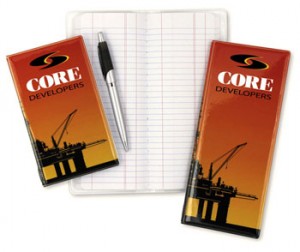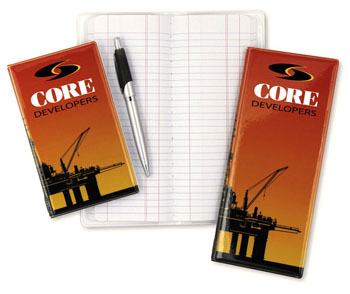 7 Secrets yes, but only secret until you read this post. Custom tally books are essential tools for people who work in:
Oil fields
Gas fields
Forestry
Mining
Drilling
Any job that requires continual field recording of data
When you order custom tally books, you usually want your company logo and phone number on them. Here are the "secret" options that are available:
Inside printing. Printing on the inside part of the vinyl cover.
Stone pad instead of paper pad. This marvelous material can't tear, and it is water resistant. Perfect for outdoor jobs in any weather.
Pen loop. Don't want to carry your pen separately? Why not have a custom vinyl pen loop built into your pipe tally book?
Clear inserts. These fit into the front or back cover, on the inside, so you can insert up to 6 pages of your choosing.
Junior size book, only 6″ high, instead of 8 5/16″ high. Some people prefer the junior size.
Colored vinyl border, as shown in this picture. the vinyl border and your imprint are both protected with a clear vinyl cover.
Stock pictures, to add a flair to your oilfield pipe tally books. Or, you can have your own picture printed in the background.