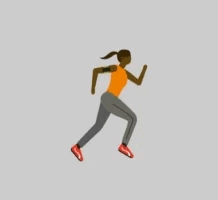 The first Wednesday in June is National Running Day in the U.S. Running, jogging, and walking have become very popular in the last 20 years. People are more health conscious, and realize that these sports are good for your heart and general health. Almost anyone can do them. Every weekend in the summer has a race somewhere close by. The prizes you get for finishing are usually a shirt, jacket, tote bag, or a medal. Runners would rather run in a group than by themselves, and don't mind paying $25 to $50 to run in a group and get some swag each time. You don't have to be in the top 3 to get a trophy and cash. You just have to be in the top 3 in your age bracket and sex bracket. With each age bracket consisting of 5 to 10 years, there are many winners.
How can you celebrate this day?
Sponsor someone to race, if that is an option.
Support a racer.
Take a "finishing" picture of your favorite runner and post it on social media for them. Send it to their friends and relatives.
Hand out tally books with your company logo to all the runners. They can use it to keep track of all their races, their speed, length, and awards.