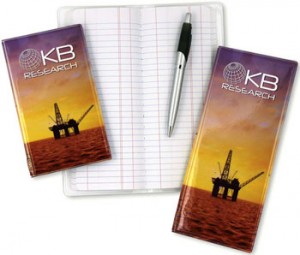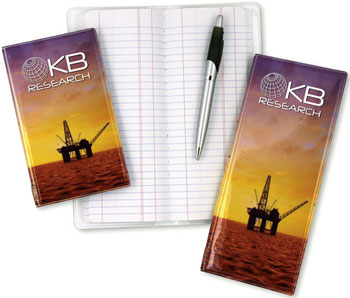 Tally Books are used by workers and inspectors in the oil and gas industries. These books are made rugged for outdoor use. Here is how they are constructed:
For stiffness, we start with chipboard. This is the solid gray "cardboard" material that cereal boxes are made out of.
The 2 pieces of chipboard (front and back of the tally book) are covered with a colored vinyl for protection from the elements. Vinyl comes in a variety of colors. The inside layer is usually the same color as the outside layer.
To hold the paper pad (or stone pad), we add a front and back clear pocket. So the first and last page of the pad are slid into those two pockets. For durability, the first and last page are made of heavier paper. This pad is held in place just like the check register in your vinyl checkbook.
Not in this order, the imprinting is done on the outside cover and the inside pockets.
Printing is done in 3 different ways: Screen printing, Hotstamping, Full-color imprinting.
Sometimes we add a clear vinyl pen loop on the side. We can also add an insert. It has 3 clear vinyl pockets so that you can add papers and cards of your choosing.
Tally Books are made and printed in the USA.