Everyone knows about the Larry Lights that hit the market about 5 years ago. They are super bright and very portable. They have a magnet so you can position them accurately when you are working on your car.
NEW in 2018 is the Larry Boss 6431, which is a 3 in 1 version of the original. This one has an extending and flexible magnet that gets that screw or bolt that you can't reach. It retracts and hides away when you don't need it. The light has 3 modes. White, red, and red flashing.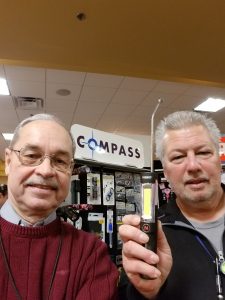 Shown here is Dave Navoyosky of Advantage-advertising.com and Paul Rizzo, representing Compass Promos. The Larry Light flashlight was a big hit at the promotional product show in Cleveland Ohio in February.