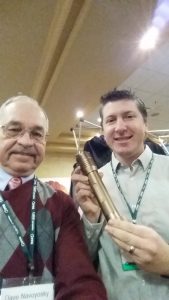 Brian Debottis (of Starline) showed me the best and brightest engraved flashlights at the OPPA show in Cleveland Ohio last week. I have one of these Triple Output LED CREE FL142 flashlights, and tried it out one night. It can light up the complete side of a building. It's bright enough to be able to paint the side of your house at night! Currently, I keep it in my boat. When working in the engine compartment, you need a super bright light, and this flashlight fills the bill.
There are 2 secrets to its brightness. First, is the CREE bulb. CREE bulbs are extremely brighter that an ordinary LED bulb or an incandescent bulb. Second, there are 9 AA batteries inside. If they are all connected in series, that would give it 13.5 volts to work with. No wonder it is rated at 1050 Lumens.
The FL142 can be laser engraved with your corporate logo. This makes for a long-lasting, appreciated gift when you present it to your best customers.