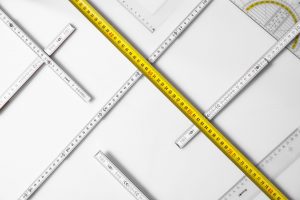 Suppose you own a business. Suppose your customers are architects, designers, contractors, builders, engineers, or real estate developers. Suppose you want to advertise your company to them, in a way that your name and phone number are visible to them every hour of the day. An architect scale ruler would be a very effective advertising tool for you! But which one?
Architect 6″ long with four bevel scales
Engineer 12″ long with four bevel scales
Architect 6″ long pocket scale
Hollow triangular architect 12″ scale
These scales are all good choices. Of course the 6″ one are very portable. They are for inspectors and estimators that are on the go. The 12″ ones would usually stay at the work station. Architects and engineers would need different scales, so that is something for you to consider. Ask a couple of your customers which ruler they would prefer. That would take the pressure off of you to make a difficult decision.