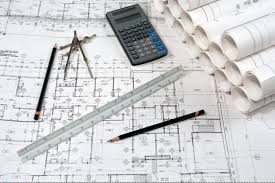 This week (the 3rd week of September) is National Construction Appreciation Week. Construction covers a wide array of activities. Building bridges, razing barns, pouring concrete, painting buildings, covering roofs, making highways, installing drywall, and pounding nails, are all part of the picture of building our environment.
An important tool that is common to all these activities is the architect scale ruler. It is used by
architects
builders
estimators
designers
contractors
It helps to measure the size of things on a blueprint. The 2 common configurations are 1/4″ and 1/8″. On the 1/4″ scale, each mark is 1/4″ apart, and numbered from zero, 1, 2, 3, 4, etc. If the blueprint is drawn to that scale, then the "5" mark on the scale means 5 feet, or 5 miles, or whatever the blueprint says.