A Maglite (or 100 Maglites) with your corporate logo comes with these benefits: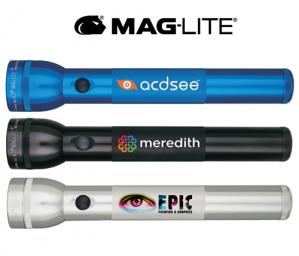 They advertise your company for many years in the future. Maglites don't wear out. In general, we offer a limited lifetime warranty in the Western Hemisphere. The warranty is different in other parts of the world, and on different models.
Engraved Maglites with your logo help to build your brand loyalty.
They make your customers and employees appreciate your generosity.
A Maglite engraved with your logo is a useful gift that won't leave you in the dark.
In the picture below, Tony Sabo, is showing me 2 new models that Maglite is introducing in 2016. Details will be in the next blog article. Tony, the owner of Brickyard Sales & Marketing, is the regional rep for Maglite and other promotional product lines.