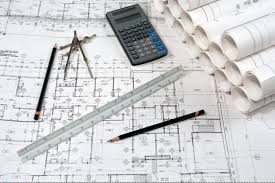 To use an architect scale ruler is not an easy task. Since these rulers come in many configurations, you first must know which scale to use. Here are the basic steps:
Find the scale needed in the Title Block of the blueprint. If it says 1/8″ equals 1 foot, then go to the next step.
Use the right scale. 1/8, 1/4, etc. The 1/8 scale means that the markings are 1/8″ apart. The 1/4 scale means that the markings are 1/4″ apart.
Lay the scale on the blueprint and measure your object. If you are using the 1/8 scale, and the object is at mark 5 on the scale, then it is 5 feet long.
Accuracy. If the object is not an even number of markings on your scale, you can get the accurate measurement by using the fine markings before the zero mark. Say the object is between 5 and 6 on your scale. Just slide the final mark (5 in this case) to the end of the object. Then you can read the answer as 5 marks plus whatever the object lines up with in the fine markings below the zero mark.
There are complete instructions shown here: