When you own a business, and want to give out a Maglite engraved with your corporate logo, here is how it is done: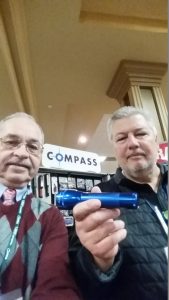 Your art file is converted to vector art (unless you already have vector art).
A virtual proof is made, so you can see how the finished product will look. This is a jpg file which you can view on your computer or phone.
A state-of-the-art laser engraver is set up with your art file.
The Maglite is placed in a special jig, or cradle, so that it is perfectly aligned for what comes next.
A button is pushed, and in just a few seconds, your company logo is precisely laser engraved on the barrel of your Maglite®.
Now the Maglite engraved with your logo is inspected for accuracy and clarity.
It is packed and shipped to you, so you can make everyone that receives them in your shop happy and grateful.