So you want your logo on a Maglite, to give to your customers. How do you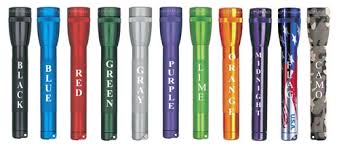 choose which Maglite engraved with your logo would be the best choice?
Budget. How much do you want to spend on each customer? Better yet, what is the lifetime value of each customer? Do they spend $1,000 a year? Over 20 years, they would spend $20,000. Would you be willing to spend $50 on an advertising gift for that customer? Remember, this type of gift will last a lifetime.
Size. Maglites come as small as one AAA battery. The largest one uses 4 D batteries. There are many in between those two sizes.
Style. There are rechargeable ones, incandescent ones, and LED ones. Which style is more suited to your client base?
Color. Your corporate logo might be in color, and you may want to continue that color in all your advertising. Maglites come in several colors, depending on the model.
Quantity. Do you want to do this project for all your customers, or just the big spenders? That's up to you.