Zoom In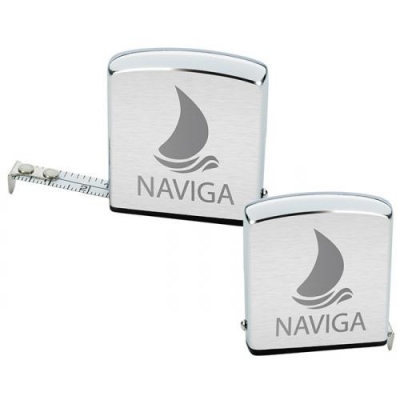 Compact square design with rounded top, nearly like the Zippo tape measure.
$16.95
| Quantity | Price |
| --- | --- |
| 1 | $27.10 |
| 2-24 | $27.10 |
| 25-49 | $24.10 |
| 50-99 | $21.10 |
| 100-249 | $18.99 |
| 250-499 | $17.59 |
| 500+ | $16.95 |
Absolute Min. qty. with your imprint is 25. Quantity variation +/- 5% is possible & billable. Min. qty. blank is 1.
Our Best Selling measuring tape.
We can just barely keep up with demand. A stylish compact square design with rounded top, nearly like the Zippo tape measure. Formerly model Barlow B97. Metric/Inch Scale Only, with 6' x 5/16" blade.
Item Color: Brushed Chrome, 1-1/2"w x 1-3/4"h x 1/2" d.
The price includes laser imprint, one side.
Decoration method: Laser engraved. The engraving does not add color. It exposes the color of the base metal, which is a tan color, and not shiny. This produces an attractive color contrast. Depending on the lighting, it may look lighter or darker than the brushed chrome finish. A picture can't show this effect.
Imprint area: 1- 1/8"w x 1-3/16" h.
Packaging: Clear plastic bag or Velour Pouch, depending on inventory. Weight: 27 lbs. per 170 pieces.
Production Time: 5 business days. Optional rush service is available.
Options:
Second side imprint. $0.50 per location, per piece, plus setup charge.
Personalization (Each item engraved with a different name or initials). $4.50 each. Setup and running charges apply. Same minimum quantity applies.
$25 Optional 24 Hour Service. Restrictions apply.

Blank tapes, if you don't want an imprint, are normally shipped the next business day. We may opt to ship by Priority Mail, even if you choose UPS. Your tapes will be shipped the best way.
The "Barlow" Stamp: If you have bought Barlow business gifts in the past, we welcome your re-order. The repeat order items may look a little different because the "BARLOW" stamp may be missing. It's the same Barlow quality, but just a new ID stamp. Barlow was bought out by the Norwood Company in 2005. As of January 2021, it is owned by Koozie Group. We want to develop a consistent "brand image" across the Norwood line, and keep the same high quality that you are accustomed to. Thanks for your understanding and your loyalty.
---
Don't Worry! We want your order done right.
A customer service representative will review your order and contact you to confirm all details before your order goes into production.
Have questions now?
During our regular business hours of 9:00 a.m. to 5:00 p.m. Eastern Standard Time:
Call us at: 1-800-432-6220
E-mail us


Global Rating:
5.00
from 6 reviews
20217 Barlow 6 Ft. Chrome Tape Measure
5.0
Review By

Clive Mark
Would be proud to distribute Advantage.. products with my company logo
Although I only needed 3 non-engraved tape measures to replace my aging 30-year old ZIPPO ā€œLifetime Guaranteedā€ pocket-worn tape measures. (ZIPPO no longer supports their ā€œlifetimeā€ tape measures.) Dave@advantage-advertising.com was able to supply a small quantity (3) of truly equally high-quality pocket tape measures.
As a retired engineer and lifetime workshop craftsman, I have carried a pocket tape measure with me every day. These tape measures from ā€œAdvantage...ā€ are equally high quality and a truly useful reminder of your company. If I was still still in business, I would not hesitate to be proud to have my company logo on every unit I gave to clients.

C. Mark, Radhot Services,
Radhot@shaw.ca
20217 Barlow 6 Ft. Chrome Tape Measure
5.0
Review By

Scott Hasted
Pocket tape measure
Product is impeccable. I paid shipping charges to advantage when I ordered my tapes but then had to pay duty on the two tapes
Quite shocking to pay almost $100 for 2 $15 tapes
20217 Barlow 6 Ft. Chrome Tape Measure
5.0
Review By

Jerry Krause
Blank tape measure
I ordered three blank tapes for my personal use. They are as advertised. Not quite the same as my old Zippo but nice.

Seems the print on the tape is smaller than on the ols zippo too. In any case I'm happy with my purchase. The order process was simple and Tapes arrived in nice velvet pouches.

20217 Barlow 6 Ft. Chrome Tape Measure
5.0
Review By

Keith Clark
Pocket rulers
Everything I was looking for. Received in a very time manner. Very pleased
20217 Barlow 6 Ft. Chrome Tape Measure
5.0
Review By

Roger Amos
Barlow Chrome Tape Measure
For many years I carried a Zippo tape measure and used it daily. After many years I wore it out. I was very excited to learn that Barlow had the rights to produce a similar tape. Bought one for myself and my son. The tape is handy as can be, and enjoy using it. It is like having a piece of functioning jewelry in your pocket. I encourage business' to use this product as a promotional tool.

Really Appreciate the Pocket Tape!
20217 Barlow 6 Ft. Chrome Tape Measure
5.0
Review By

David
Nice item
I ordered a number of these in blank form suitable for custom imprint ourselves. They are very nicely finished and the tape action is smooth. Very satisfied with this purchase.